Moving your yoga classes online can be a great way to attract more clients to your studio. A virtual platform is a great way to reach your students in the comfort of their own homes, while also allowing them to book classes and pay online.
Why you should be teaching yoga online
More people are gaining access to your yoga classes online
It is a great way to make money
You can teach yoga online from anywhere
It is a relaxed environment that is perfect for new students to learn
More people are gaining access to your yoga classes online
Yoga has been taught within the walls of a studio for decades, but that's not the only place where the practice is available: You can now practice yoga anywhere, anytime by streaming yoga classes from your computer, tablet, or smartphone.
Your students are no longer restricted to live close to your yoga studio. Since you can offer your classes online, students can livestream yoga classes from anywhere!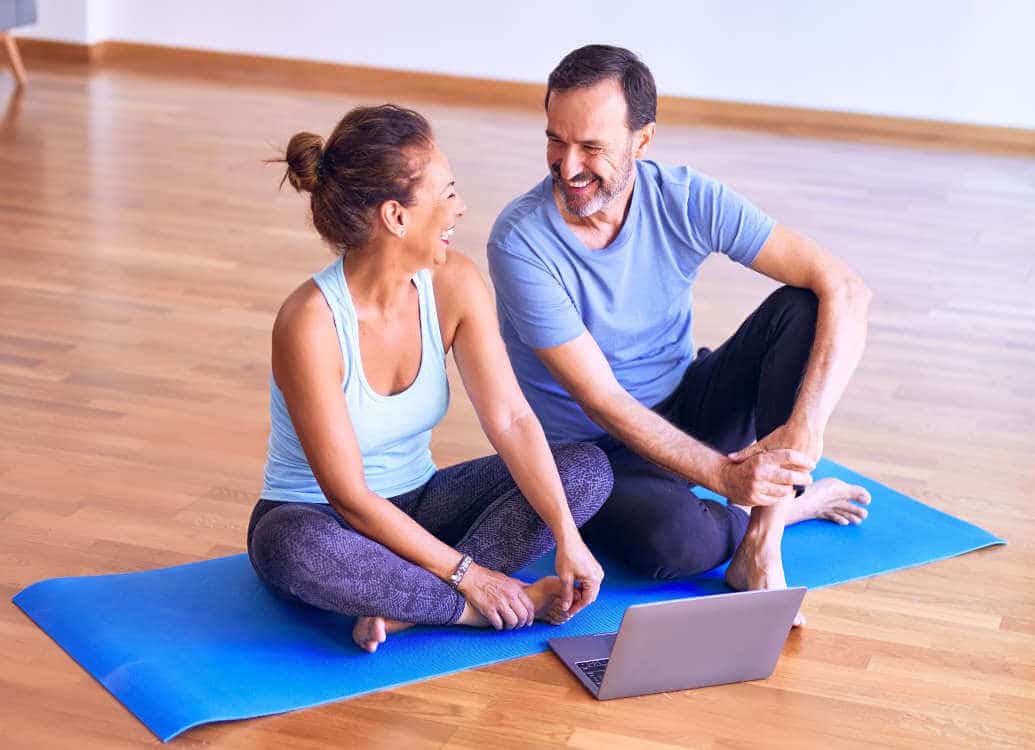 Teaching yoga online is a great way to make money
Offering your yoga classes online means that you won't have any restrictions regarding participation limits. Anyone with an internet connection can be streaming yoga classes. You can simply provide your participants with a link to join your class. You can use any video streaming provider such as Google Meet, Zoom, or YouTube.
You can teach yoga online from anywhere
Another perk of teaching yoga online is that you can deliver your classes from anywhere in the world. For instance, you can livestream yoga classes, or you can simply record classes and upload it on your website or a video hosting platform. All you need is a computer, camera, and internet access.
It is a relaxed environment that is perfect for new students to learn
Yoga is a fun and entertaining way to stay fit and healthy, but it can be intimidating to try a class for the first time. Fortunately, new students can find online yoga classes that are suitable for beginners, and they can help them get the benefits of yoga, without putting themselves out there. Online yoga classes don't require any formal practice – no pressure to be perfect – but offer the ability to ask questions and to get help from teachers when you can't follow along.
In addition, you can focus on your breathing, your body, and your instructor, and you don't have to worry about anyone else in the class. That's why online yoga classes are a great way to get your practice on and also a convenient way to avoid crowded studios.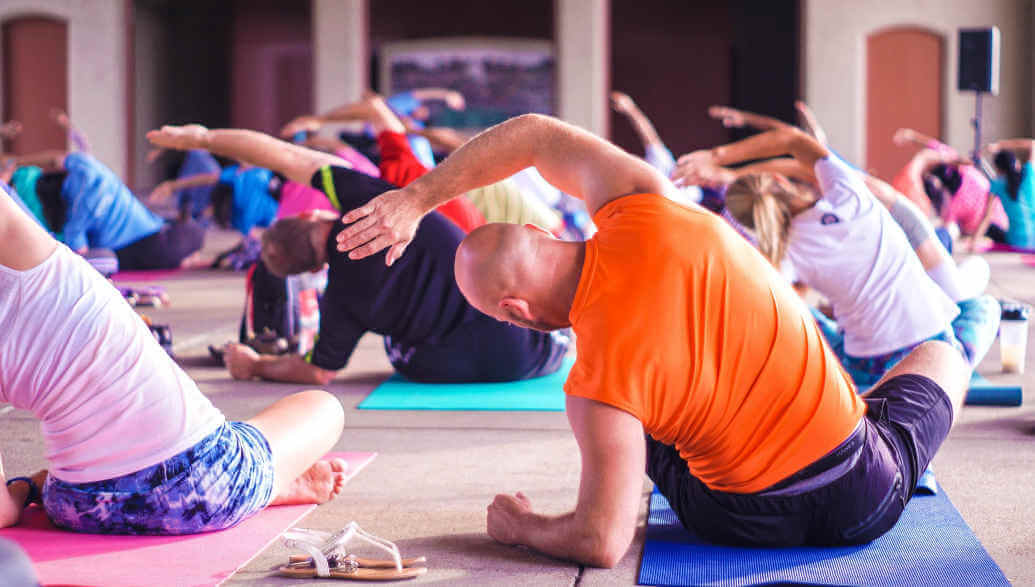 How to move your yoga classes online in 5 simple steps
Pick what type of yoga you want to teach
Decide on the course format and the prices
Get the right tools to manage your yoga business
Create your first online class
Market your yoga classes online
1. Pick what type of yoga you want to teach
The type of yoga you like to teach may depend on the type of yoga you practice. You can choose what type of yoga to teach, based on your preferences, experience, and abilities.
Once you have decided on what type of yoga gives you the most joy and what level of yoga you want to teach, you should also ask yourself if you prefer to teach kids, adults, or both.
2. Decide on the course format and the prices
When planning to teach yoga online, you may be considering whether to record the session and then post it online or conduct the session live. The truth is, both approaches have some advantages and disadvantages, so you may find it useful to consider both before picking an option.
For instance, live-streaming yoga classes give the students the opportunity to ask questions right away whereas recorded sessions bring the advantage of being able to pause or fast forward certain parts of the lessons.
Once you have decided on the right course format, you can think about the pricing. You could choose between a monthly subscription, a weekly donation, or offer certain recorded lessons for free. In case you decide to upload your free class to YouTube, you can generate some passive income through advertisements at the beginning of your video. Offering some free online yoga classes helps to attract more clients since they are able to get a sense of your teaching style before subscribing to a monthly membership.
If you are serious about your practice, you must find the right balance and the right price for your yoga classes.
3. Get the right tools to manage your business
At its core, a yoga class is an experience. Whether it's traditional classes or online yoga classes, it should help people feel more relaxed, centered, and mindful. But without the right software, it's difficult to manage the movement of classes, modify lessons on the fly, and communicate with students. Here are some of the features a scheduling software should include so you can move your yoga classes online hassle-free:
Scheduling: The best online scheduling software will make it easy for people to find a class time that works for them.

Collect payments online: Clients should be able to pay for a yoga class with just a few clicks.

Record cash payments: The software should enable instructors to quickly record cash payments in case you have in-person classes.

Class management: The yoga instructor should be able to take attendance and add or remove participants from the yoga class.

Integration to your website: The software should enable you to create your personal booking page where you can enter all of your classes. This way you can link it on your website and share your classes with your students so they can sign up online and pay with just a few clicks. 
4. Create your first online class
Now that you have decided whether you want to teach yoga online by offering livestream yoga classes or by recording them, it's time to create your first class.
Make sure you have a good camera and a decent internet connection. You may also record your yoga classes on your smartphone by using a smartphone holder. However, you want to consider investing in a good camera since the video quality will be better.
In addition, it might be worthwhile to invest in a good microphone. The audio will simply be much better compared to using your built-in smartphone or laptop microphone. You can purchase a high-quality microphone for under $100.
Lastly, ensure that you have good lighting while recording your video, especially if you are teaching at night.
5. Market your yoga classes online
Your classes are amazing, and you offer them at a great price. You give your students the best experience they can find. So why aren't your classes packed? The problem is marketing: you have to get the word out about your classes, or your students won't know you exist. Fortunately, there's a lot you can do to market your yoga classes online. Here are some great ways to reach a wider audience and get more business.
Use social media: Share pictures or videos of your yoga classes on Instagram, Facebook, or YouTube. This will engage your audience and make them wanna join your next lesson.
Have a top-notch personal website: Make sure your internet presence is on point by having a well-designed website. Your audience should be able to easily navigate through your website to find your yoga classes and sign up for them.
Build your email list: Even though you might have a large social media presence, you might not have a lot of paying customers. Start to grow your email list by offering free digital resources such as yoga guides to everyone who signs up for your newsletter. You can engage with your followers through your weekly or monthly newsletter and increase the chances of them signing up for your classes. Email marketing platforms such as Mailchimp might come in handy to send out your newsletters automatically.
Consider streaming yoga classes free on YouTube: Offering a few free classes on YouTube might help you to increase your customer base. If people get a feel of your teaching style, they might want to attend more of your classes. Just make sure you direct them to your entire course offering by adding a link in your YouTube video or the description.
Why Planubo is the right online scheduling software for you
Planubo has developed a platform that is designed for online instructors to help their businesses to go online. It makes it easy to set up and manage your yoga classes for both online and in-person classes. Planubo makes it easy to collect payments and keep track of attendance. With just a few clicks you can schedule classes and set up a public booking profile. The booking page displays the most important information such as class description, price, and class availability.
Your booking page can easily be integrated into your website and made available to your students. This way your students will have a neat overview of all your class offerings and can book a yoga class with just a few clicks. In conclusion, Planubo has all the necessary tools that will help you to manage and grow your online practice.