Becoming a good tennis coach is not an easy task. It requires a lot of dedication and hard work. But what if you want to get better at coaching tennis? What if you want to become more efficient and more productive? In this article, we will share with you several tips on how to increase your productivity as a private tennis coach.
What is your goal as a private tennis coach?
The goal of a private tennis coach is to help the player improve their game and get better at tennis. You can do this by helping them with their technique, teaching them new skills, or giving them the motivation they need to improve. Many tennis coaches are extremely good at it, but when it comes to managing their entire tennis business, they find that their workload is extremely heavy. That's why it's important to increase your productivity on and off the tennis court, so you can enjoy some downtime with your friends and family.
What are the best ways to become more efficient as a private tennis coach?
The best way to become more efficient as a private tennis coach is to find the right balance of coaching tennis and administration. Tennis coaches have a demanding schedule and need to find the time for all of their duties. They need to plan lessons, organize tennis camps, teach tennis on the court, and manage student payments.
Let's take a look at how you can use some productivity tips to try and do less but better in your day. This will help you progress in your work, increase your energy and focus on the tennis court, and give you more time for other activities!
1) Prioritize tasks
The first step to streamlining your workload is to identify the tasks you should be focusing on. You need to think about what needs to happen first such as tennis lesson planning, and what can wait until later, like managing admin tasks.
2) Take breaks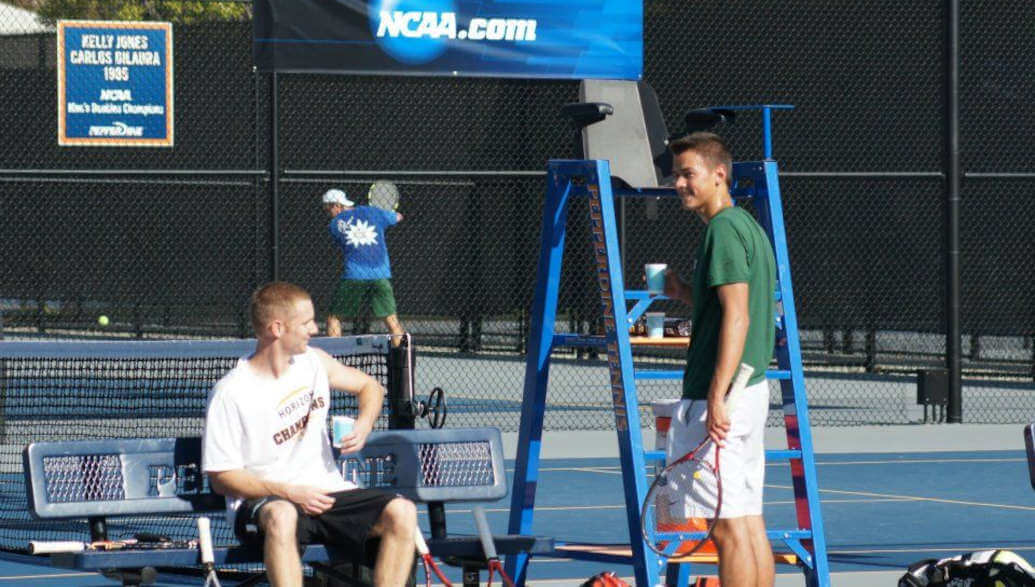 You can save a lot of energy by scheduling breaks for yourself during the day. Taking one or two additional breaks during the day, even if it's just 15 minutes between tennis lessons, will keep you from feeling exhausted and stressed out. Pacing yourself is important when teaching tennis to avoid burnout and maximize productivity throughout the day. By doing so, you'll have more energy in the evening or the next morning and you'll be able to complete your administrative tasks faster.
3) Make templates
Templates are very useful in many aspects of your work as a tennis coach and they save time and effort. Here are just a few examples you could be using templates for:
– Tennis lesson agendas
– Tracking student progress and attendance
– Registration forms for tennis lessons and tennis camps
– Social media posts about your tennis business
– Popular hashtags for your tennis business for social media
Creating templates is a one-time effort. Once they are created, they can be reused for countless occasions with just a few tweaks, saving you a lot of time.
4) Automate as many administrative tasks as possible
There are several aspects of your tennis business that can be automated. This leads to less administrative work, more income, time savings and more energy for your tennis lessons on the court. All the following administrative tasks can be handled with modern tennis software like Planubo.
4.1) Bookkeeping
Manually creating your invoices and sending them to your tennis students takes a lot of time. That's why it's worth using a program that helps you create invoices or, ideally, completely automates the invoicing process.
4.2) Online payments / accept credit cards
Making transfers to your bank account takes time for both you and your tennis student. The student must enter all of your bank information to ensure that the tennis lesson fees are transferred to the correct person.
You – as the tennis coach – need to thoroughly check your bank account to make sure you have received all payments. Double checking your bank account for all tennis lesson fees takes a lot of time.
If possible, you should try to automate this process as much as possible, and perhaps use tennis software that allows you to accept credit cards and automatically record student payments as they are paid. This way you don't have to chase every missing payment and you can always keep track of your outstanding and completed payments.
4.3) Attendance tracking and cancellation policies
Are you still taking attendance for your tennis students on a piece of paper or in an Excel spreadsheet? After a certain number of lessons, it can become quite chaotic because you have so many documents and records.
So why not use tennis software that allows you to record student attendance? This way the information is stored clearly and with little effort. With some programs, you can even link the attendance record to the billing system and decide if a student should be billed for their tennis lesson if they miss it. With good tennis software, you can set up cancellation policies that do most of the work for you.
For example, if you set your cancellation policy to 48 hours before the tennis lesson starts and the student cancels 60 hours before, the attendance record can be set to "No Show and No Charge", giving the student the option to either not pay or make up the tennis lesson at a later time.
However, if the student cancels 24 hours before the tennis lesson, after your 48-hour cancellation period, the attendance record can be set to "No Show and Charge". This way, the student will be charged for the tennis lesson because they cancelled too late.
Tennis software like Planubo that combines this type of attendance tracking with the billing system will help you save a lot of time. It can also help you save money, as you're less likely to forget to charge for a missed tennis lesson that was canceled after your cancellation period.
4.4) Organized feedback sharing
It is very important to give and share feedback with your tennis students. Most of the time, feedback takes place during tennis lessons on the court. But what if you want to share practice videos, tennis workout plans, or other documents with your students? Of course, you can do that through your phone and messaging apps, but after a while, you'll lose track of all the tennis practice videos, documents, and feedback you've shared with all your tennis students. 
Having a dedicated place where you can upload your feedback for each of your students will help you stay more organized. Also, your tennis students will be able to access this place at any time and view their training videos and documents, no matter if they are 1 day old or 2 years old. This will increase your students' satisfaction and takes your tennis service to the next level.
Therefore, having a tool for private tennis coaches to store and share your feedback makes life much easier for you and your tennis students.
4.5) Monitoring student progress
Monitoring student progress is also an important part of quality tennis teaching. All of your students want to know how their tennis game has improved after taking tennis lessons from you. Therefore, you should make it as easy as possible for your students to keep them informed of their progress.
The same applies as in point 4.4 above: A tennis software that allows you to take notes and inform your students about their progress will make your students very happy. Especially if your tennis students can access this kind of information at any time in a clear and concise format. 
4.6) Scheduling/booking tennis lessons and tennis camps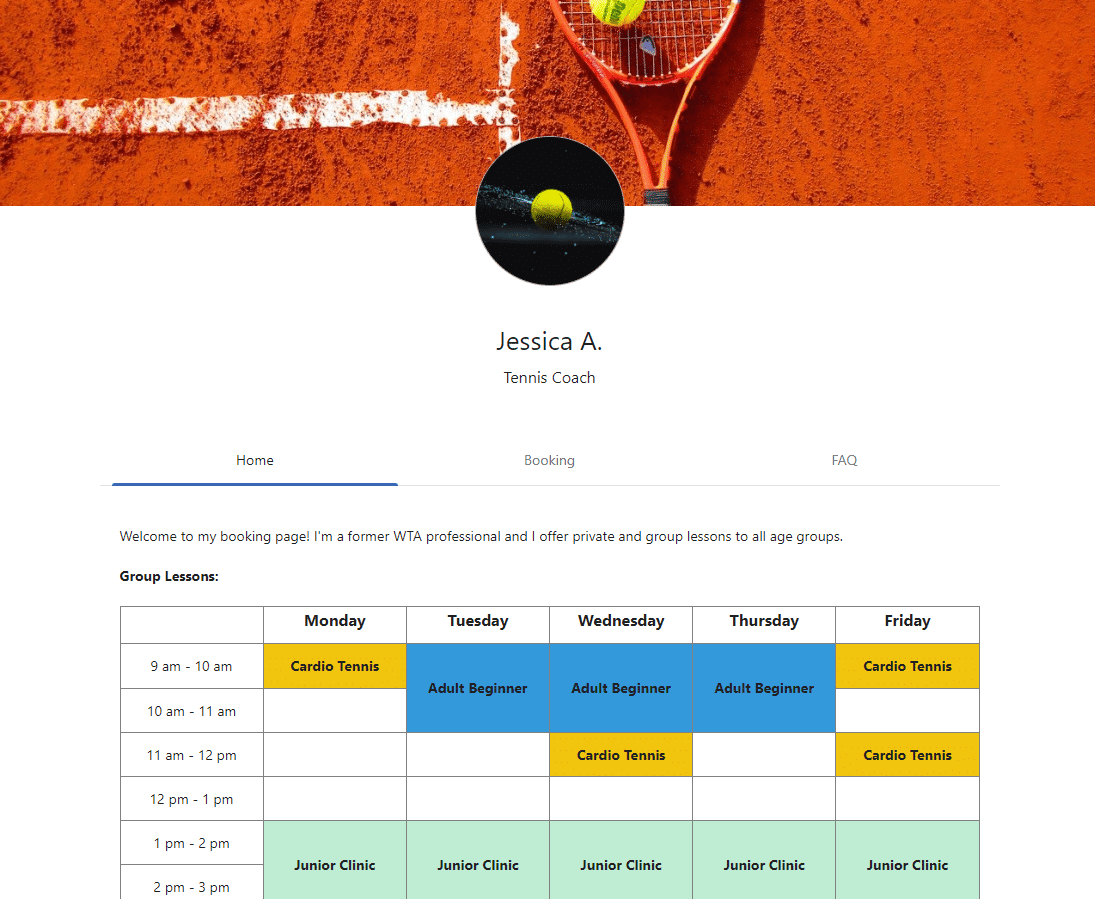 An online tennis booking site makes your life easier in many ways. Not only can you represent your tennis business in a professional manner, but you can also save time and increase your revenue. With a tennis booking site, you'll need fewer calls and text messages with your students inquiring about available practice times. Your students can easily navigate to your booking page and schedule the time of their choice themselves based on your real-time availability.
Scenario 1 – Tennis camps: With an online booking site, you can list your upcoming tennis camps on it and your students can register and pay for the tennis camp online. This takes a lot of administrative work off your hands.
Scenario 2 – Spontaneous tennis bookings: Does it sometimes happen that you have a free hour between tennis lessons? Is it sometimes difficult to find tennis students who have time during that exact free hour? With a booking page where your students can book tennis lessons based on your real-time availability, you no longer have to memorize the schedule for the entire week. Your students can simply go to your booking page, view your availability, and book a tennis lesson. 
Let's say one of your tennis students got sick and you unexpectedly have the next day off from 4-5pm. Some tennis software allows you to register such a scenario. This will free up the cancelled spot on your booking page and give you and your students more opportunities for spontaneous bookings of tennis lessons.
Scenario 3 – Lesson packages: Do you offer tennis lesson packages? For example, 10-lesson packages or 20-lesson packages? Do you manually track how many tennis lessons are left after a package is purchased?
If you answered 'yes' to any of these three questions, a good tennis software could be of great use to you. Not only can students purchase these types of tennis lesson packages from you online, but some tennis software like Planubo can also track how many lessons are left after each lesson in the purchased package has taken place.
Are you afraid that you have no technical know-how and that setting up such a tennis booking site will take forever? We have good news for you. With some tennis softwares, you can set up your booking page within a few minutes without having to have any technical know-how. Some services even offer free account setup assistance, so you can sit back and have one less thing to worry about in your busy life as a tennis coach.
4.7) Student memberships / subscriptions
Offering memberships or subscriptions to your tennis students can be beneficial in several ways. For example, you can offer a 6-month summer membership at a fixed monthly price that allows your tennis students to practice with you 8 times per month. Managing such memberships can be easier than you think.
Potential benefits:
– You have a guaranteed recurring income and can optimize your earnings.
– You have less administrative work and save time on invoicing.
– You can plan better in advance.
– You can receive automatic payments through direct debit from your tennis students, saving both you and your students time.
Some of these benefits can only be realized with the right tools. With tennis software like Planubo that lets you manage your memberships and track your lessons, you'll save time and administrative effort. That way, you can focus more on other important things, like tennis training on the court.
Conclusion
Finding the right balance between tennis coaching and administration is critical to increasing your productivity as a private tennis coach. While there isn't that much potential to save time while you're on the court coaching tennis, there's even more potential to increase productivity when it comes to your administrative tasks. 
That's why it's important to keep up with the latest trends, digitalization, and tennis tools. Although it may take a few days or weeks to get used to a new process or tool, it will pay off in the long run and save you a tremendous amount of time.
If you want to read more on promoting your tennis business, check out our article on 8 Ways to Promote Your Tennis Academy.