We are excited to announce the release of our new forms feature! Forms are useful in many different situations and have many different use cases. Forms can be anything from surveys and quizzes to polls and more. In this article, we'll go through different use cases and give you instructions on how to set them up.
Form builder
To get started and create your first form, navigate to the Forms tab in your Planubo account and click on "New Form."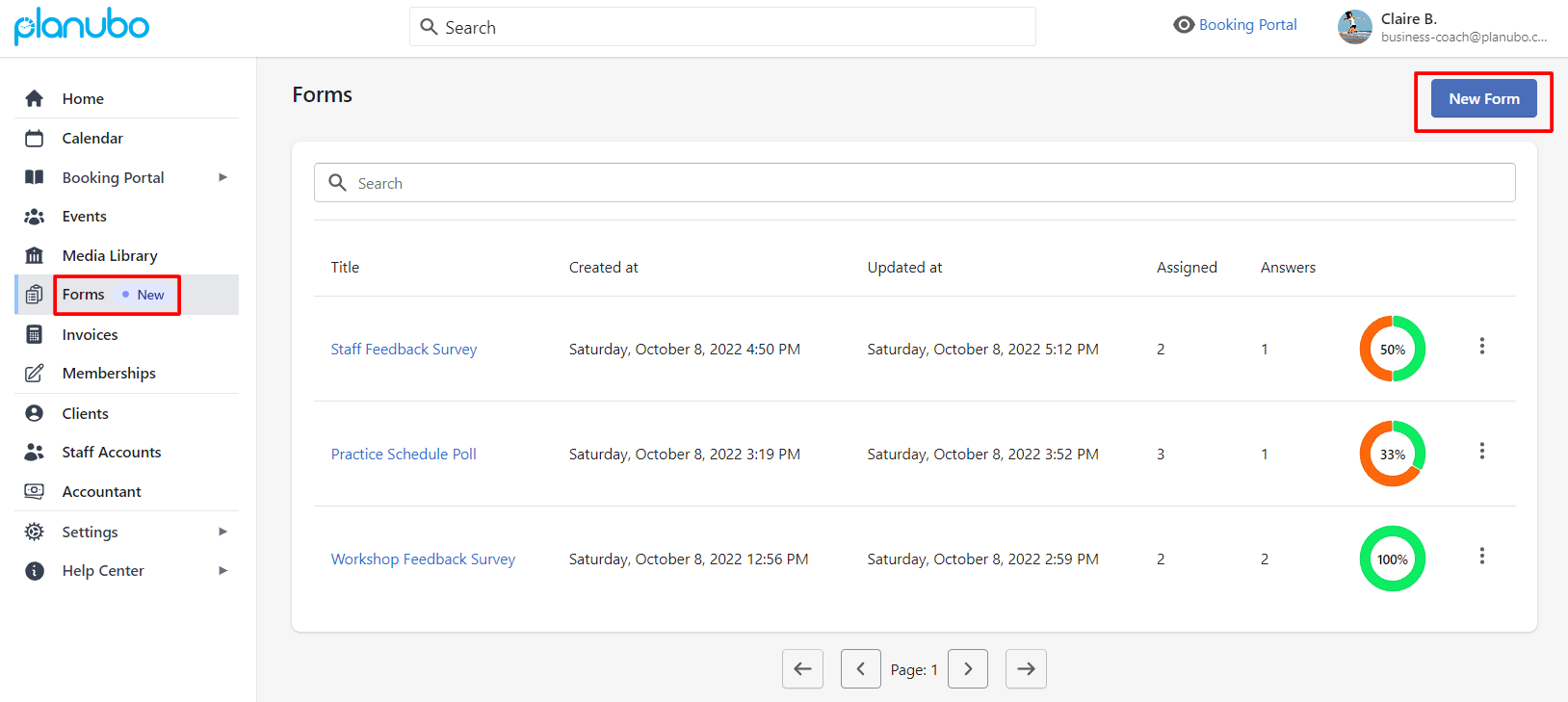 This will take you to our user-friendly form builder. From there, you can simply drag and drop the elements of your choice into the center area and edit them according to your needs.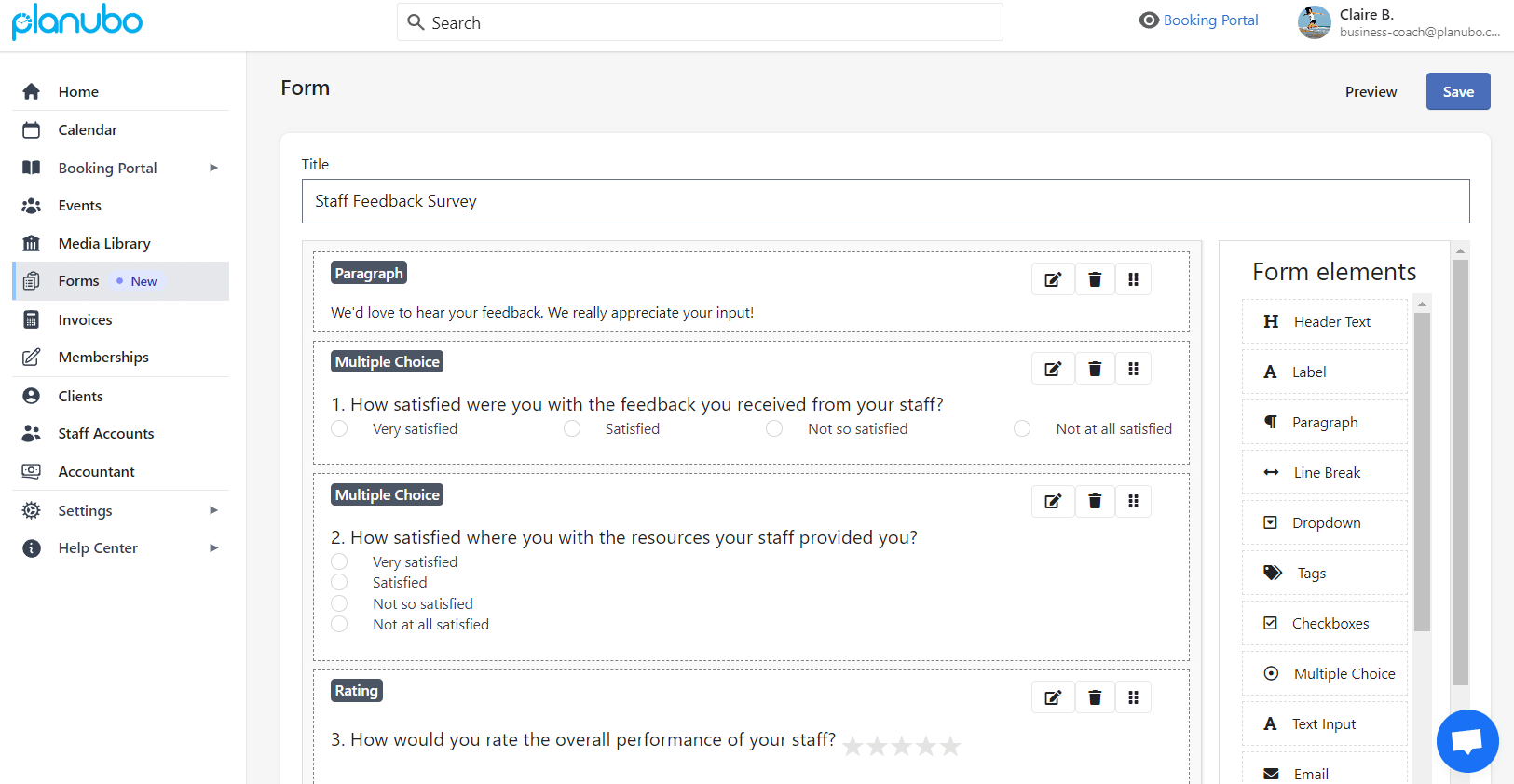 Use case 1: Workshop Feedback Survey
Once you have created and saved your form, you can share it with your students and/or staff by clicking on the three dots on the right side of the form. After you click on "Share", you can select your clients and/or staff with whom you would like to share the form. You also have the option to write a personal message and send a notification by email to your clients and staff.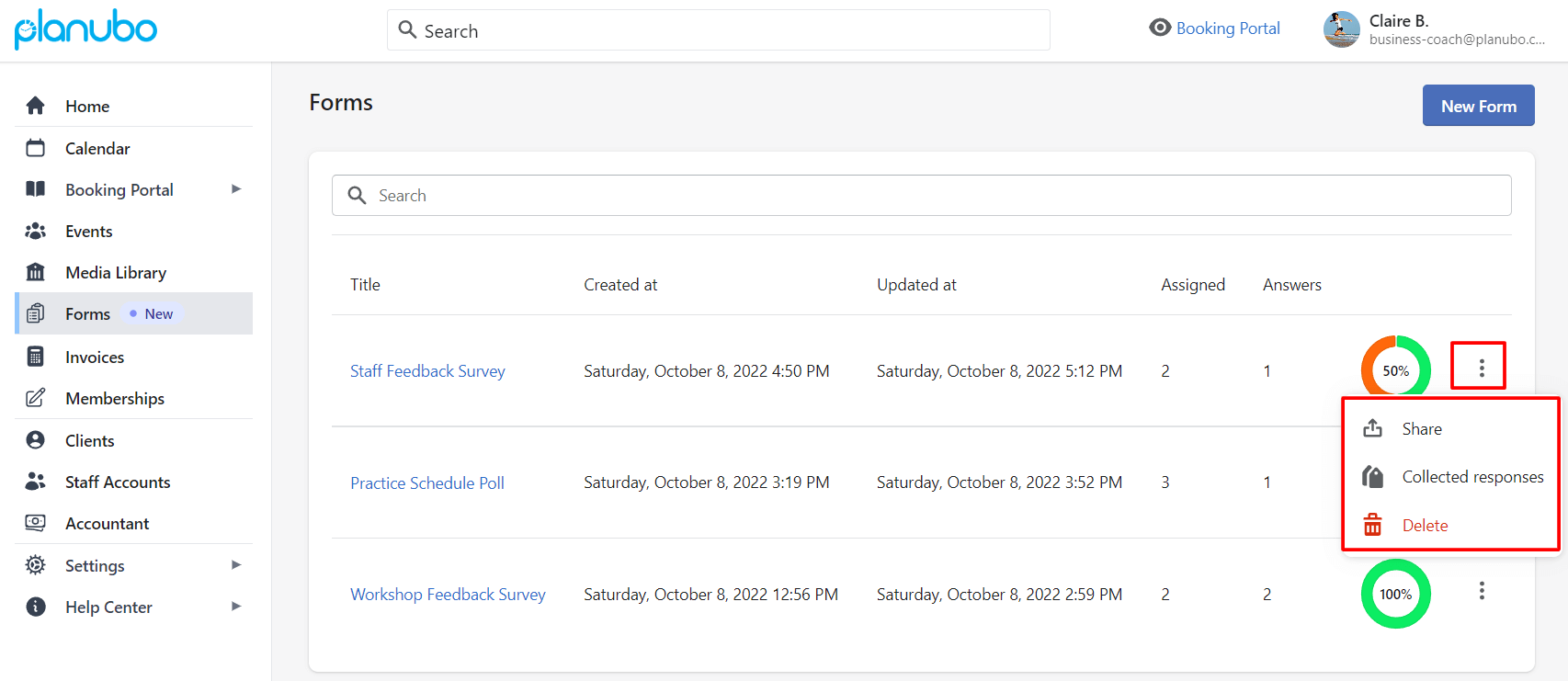 After you share your form, your clients will receive a pop-up message the next time they log into their Planubo account and are prompted to fill out the form.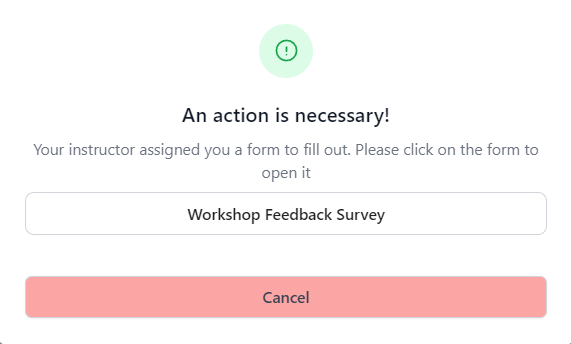 After your client has completed the survey and clicked the "Submit" button, you can view the results in your Planubo Dashboard. Simply navigate to the "Forms" tab and click on the three dots on the right side of the form. After clicking on "Collected responses", you will be able to view the survey results.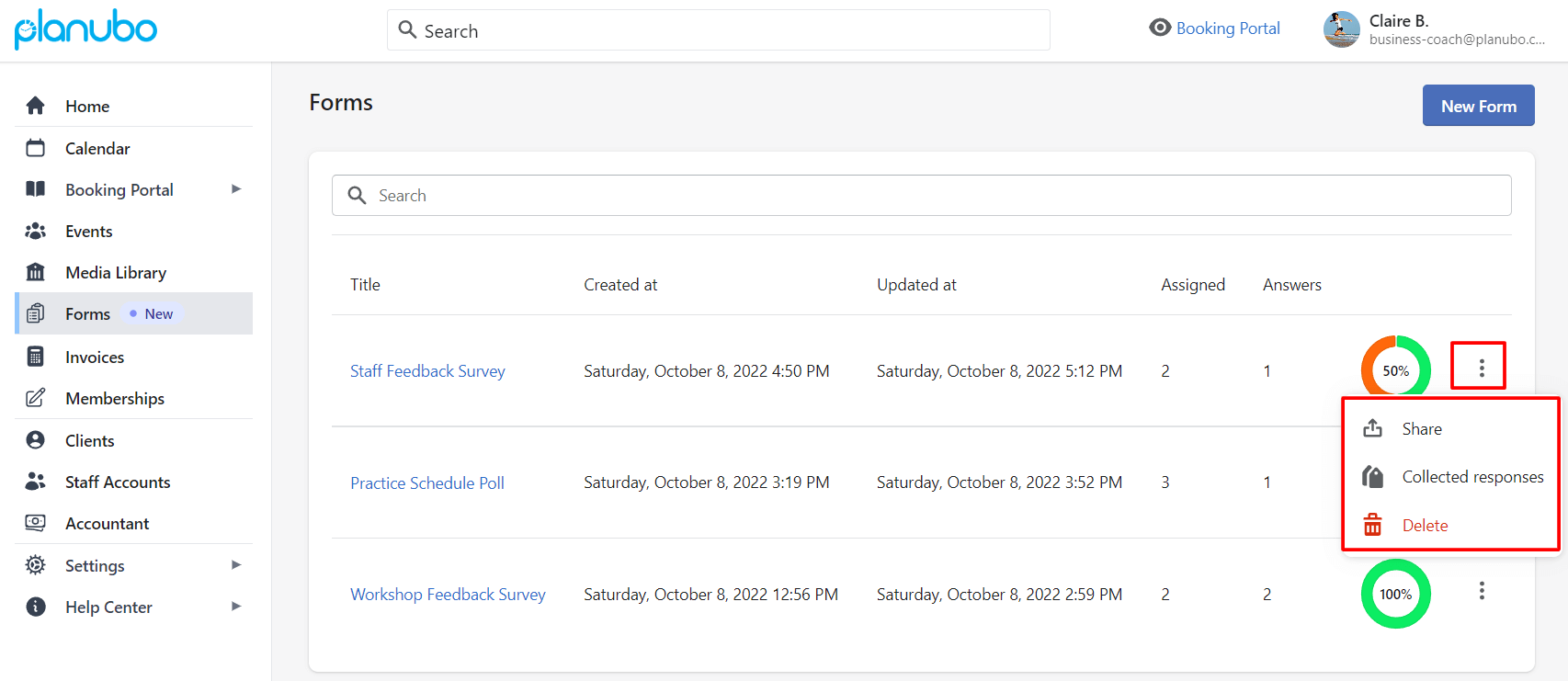 Use case 2: Practice Schedule Poll
If you would like to ask your students about their preferred practice times, you can now create a survey to easily collect this information. You can create a form based on your needs, as described above. Your finished form might look something like this and your customer can quickly fill it out in their Planubo account.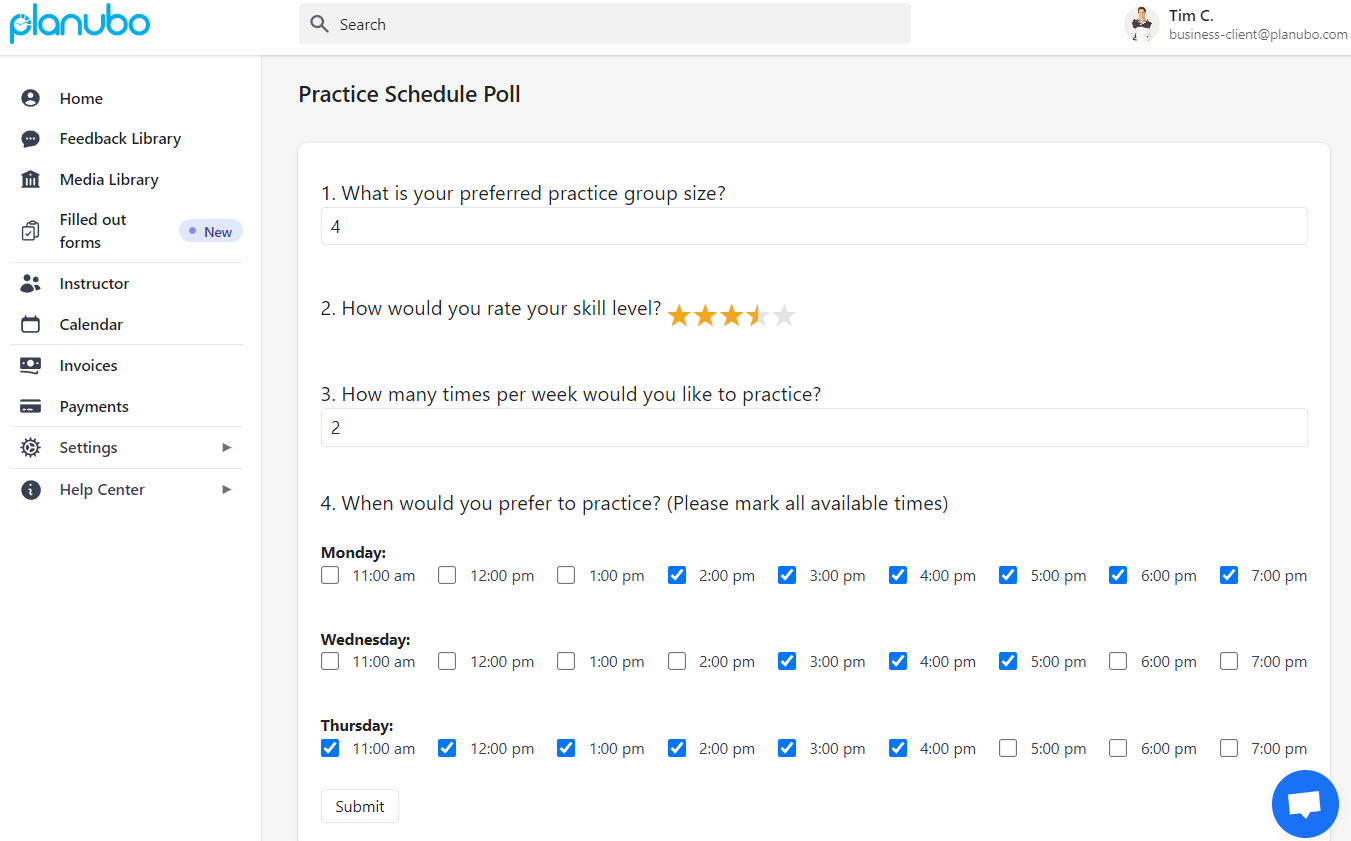 Collecting and sharing information in such a simple way can save you a lot of time and make your life easier. Plus, your clients will be happy to be able to easily share their desired practice schedule with you. 
Use case 3: Staff Feedback Survey
You can also use our form builder to create staff feedback surveys. You can completely customize the survey to your needs by using the drag-and-drop form builder as described above. Your survey might look something like this, and your clients can quickly complete the survey in their Planubo account after you share it with them.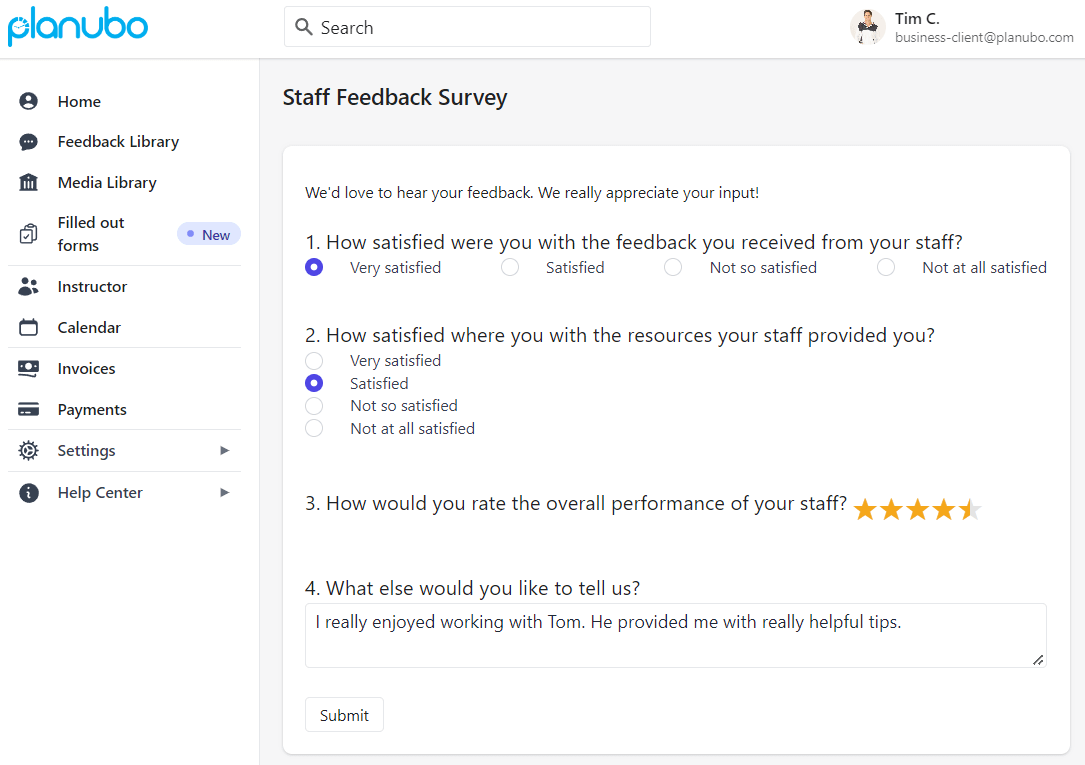 Forms Completion Overview
In your Planubo dashboard you can get a quick overview of how many assigned participants have completed your survey. This way you will always be up to date on the percentage of survey completions and can quickly remind participants if they have not yet completed the survey.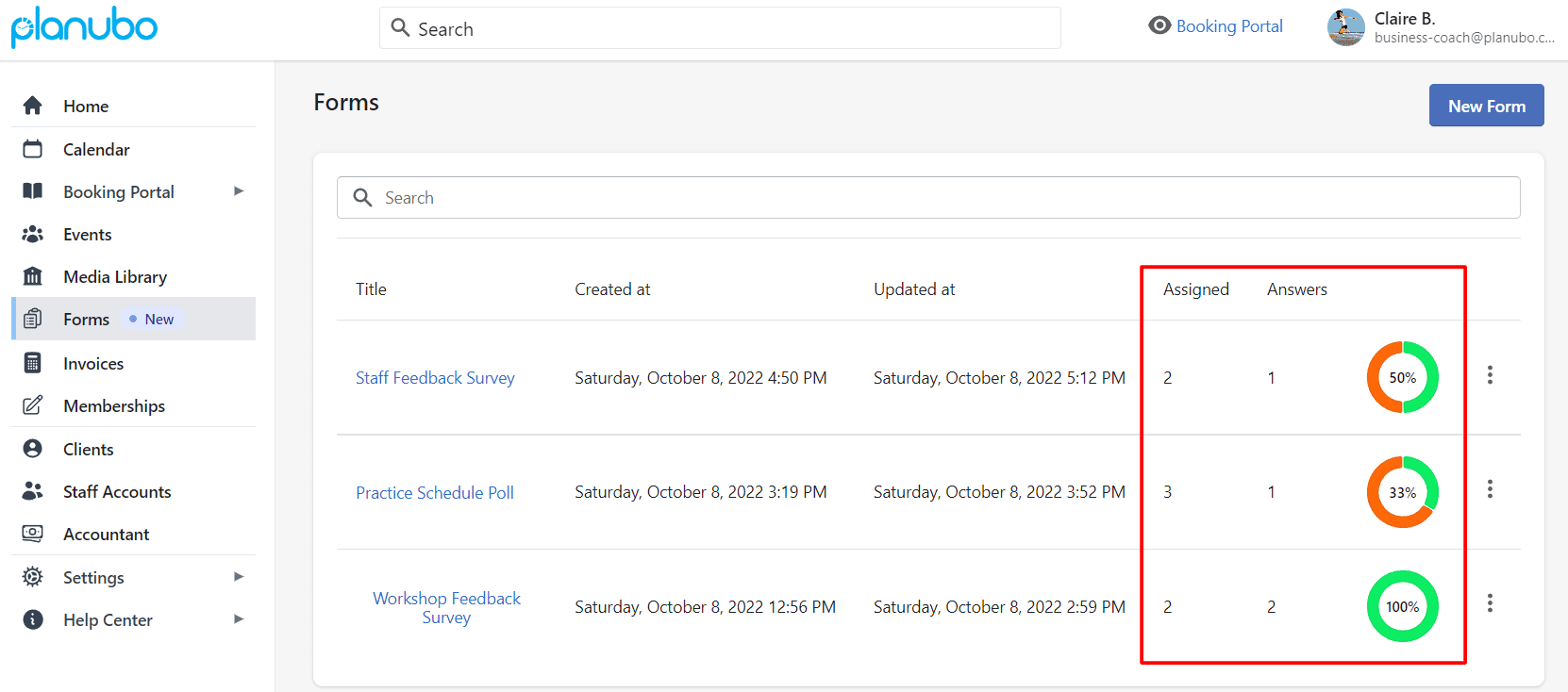 Conclusion
As you can already see, there are many different use cases for our Forms feature. Besides the three examples listed in this article, use cases are endless and vary depending on your needs. The Planubo Forms feature can help you save a lot of time and will make your life and that of your students much easier. 
You can log in to your Planubo account and have a look at this new feature. If you don't have an account yet, you can start a free 14-day trial here.
Do you have any more questions about how to create forms? We are happy to support. Just reach out to us by using our contact form.