We are happy to announce our latest feature releases with you:
Forms including Surveys, Quizzes, and Polls
Event Export to Excel
Mandatory Booking Portal Checkboxes and Text Fields
1. Forms including Surveys, Quizzes, and Polls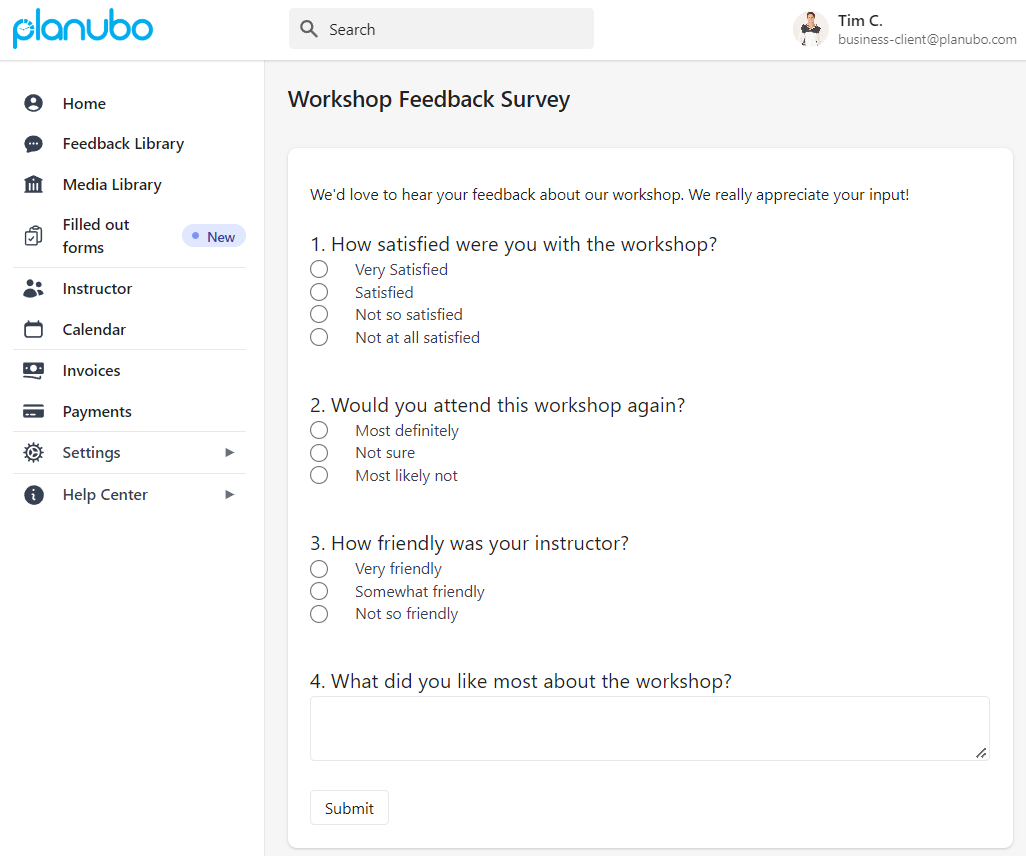 With our easy-to-use form builder, you can now create almost any form of your choice. Forms can be anything from surveys and quizzes to polls and more.
After you create your form, you can send it to your clients so they can fill it out in their own Planubo account. All of your clients' responses are automatically stored in your Planubo dashboard, where you can view and analyze the results.
The use cases for forms are endless. For example, you could create:
Client satisfaction surveys
Staff satisfaction surveys
Collect information about your clients' desired practice hours
Have your clients vote for specific ideas of yours
To learn more about our new forms feature, check out the article All You Need to Know about Forms.
2. Event Export to Excel

You can now export all your events to Excel with one click. This is very useful if you want to do further analysis in Excel or share your event data with other people or departments.
The event export is done at the client level. That means if you have a lesson with four participants, your export will contain four rows for that lesson – one row for each participant. The export will include data points such as event title, event price, event duration, attendance records, client name, client tags, answers to booking questions, and assigned staff members, among others.
One use case for the event export is the ability to provide payroll with a list of all events and associated costs. Using this list, you can calculate how many hours your staff taught in a given month. This way you know exactly how much each staff should be paid.
Of course, there are many other different use cases depending on your business needs and what you would like to do with the exported event data.
3. Mandatory Booking Portal Checkboxes and Text Fields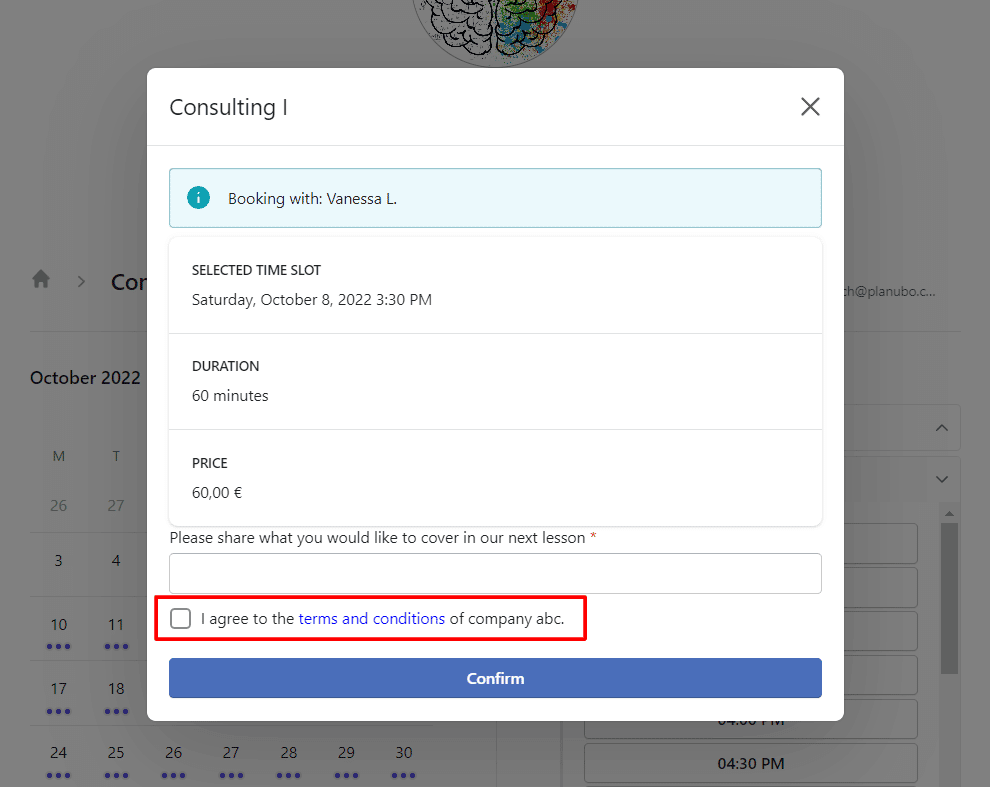 You can now create mandatory checkboxes that will be displayed during the booking process. For example, you can create a mandatory checkbox called "I agree to the terms and conditions of company abc". After you add this checkbox, your potential and current clients will have to agree to your terms by checking the box before booking.
Also, you can link any website to this checkbox so that your clients can read your terms and conditions before booking a lesson with you.
You are not limited to one checkbox. You can create as many checkboxes and text fields as you want, and decide if they need to be populated during the booking process. This gives you a lot of flexibility and helps you collect all the necessary information from your clients before they sign up for your lessons.
If you're looking for step-by-step instructions on how to set up checkboxes and text fields during the booking process, read How to Set Up Mandatory Booking Checkboxes and Text Fields.
You can log in to your Planubo account and have a look at our new features. If you don't have an account yet, you can start a free 14-day trial here.
Do you have any more questions about one of our new features? We are happy to answer them. Just reach out to us by using our contact form.